Getting married?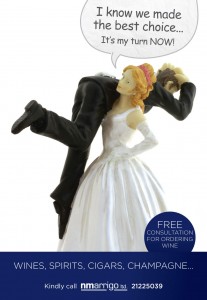 Have you found the girl, found the man? now you are both ready to make that step to further your love and continue to grow as a couple. Nm Arrigo has organised  various weddings for couples for years and couples were satisfied with their approach.
We have a variety of spirits, (such as Tequila, Vodka, Cognac, port,) wines(from different parts of of the World)  which you can purchase for your wedding. We also offer free consultation regards wine. If you order all the wines from us, we can offer you this service. We also import cigars, and sometimes people also chose to have cigars at their weddings during the reception and at intervals during the wedding. This would be part of the consultation service offered to you.
Service includes:(when an indication of the budget and amount of people)
- Guide which wine to serve during the wedding
-  whether you want a wine bar or not(which wines to have at your wine bar, and which , if any at a bar)
-Whether you want champagne, sparkling wine.
- Apart from free consultation of wines we let those that are committed in buying all their wine from us, free wine tasting, for 3-4 white wines and 3-4 red wines. This is so you understand and appreciate the wine you enjoy drinking and appreciate what the sommelier is talking about, and by educating yourself, you will enrich yourself regards the subject.
We have expertise that truly understand the wine industry  which will mean :-
- you will not be fooled which regards to price and quality
- you will not serve your guests inferior wines
- you will definitely give your guests good quality wine at very reasonable wines, since you were guided in your decision.
Good quality of products and good prices are in reach to achieve happiness on the day and make it merrier!
Contact us for more information on: 21223755/21225039 and email:[email protected]